More information
Payments can be made by: Zapper, Payfast, Credit card, Cheque card, Debit card, Instant EFT, SCode, Bank transfer, Online Banking and Cash Deposit.
Start Shopping
Blended AED CPR & Choking: Weltevredenpark - 12 April 2019
00117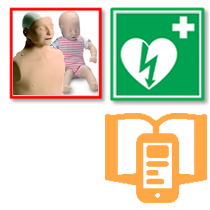 AED, CPR & Choking Course
In this blended learning course you will learn to perform CPR for all ages, use an AED and help a choking person and deal with a life threatening emergency.
(1hr 30min online and 1hr 30min in class)
Click here for a full description

Venue
West Joburg: Roodepoort region, near the 14th Avenue off ramp
8 Gansiebos St, Weltevredenpark, Roodepoort, 1709

https://goo.gl/maps/nAwseyfnjCN2

Date & Time
AED CPR: 5:00pm - 6:30pm

The online content must be completed by 3pm at the latest. If you don't complete in time you will need to book and pay again.
Online discount
If you book your course online you get a discount. You can still call us, or send us an email, if you want to chat about the weather, or need anything else.
Online discount
Yes, I would like a discount for booking online. (-43.4783) No, thank you. (0)