More information
Please click here for more information on How to make a booking
Please click here for more information on First Aid Kits
Start Shopping
Blended AED CPR & Choking: West Joburg - 20 July 2018
00069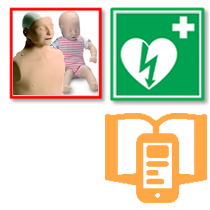 AED, CPR & Choking Course
In this blended learning course you will learn to perform CPR for all ages, use an AED and help a choking person and deal with a life threatening emergency.
(1hr 30min online and 1hr 30min in class)
Click here for a full description

Venue
West Joburg: Weltevredenpark (Roodepoort region, near the 14th Avenue off ramp)
Date & Time
AED CPR: 5:00pm - 6:30pm

Online discount
If you book your course online you get a discount. You can still call us, or send us an email, if you want to chat about the weather, or need anything else.
Online discount
Yes, I would like a discount for booking online. (-43.4783) No, thank you. (0)