Traditional AED CPR & Choking - 29 June 2019
00182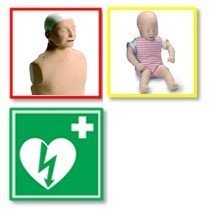 AED, CPR & Choking Course
In this full classroom session learn to perform CPR for all ages, use an AED and help a choking person and deal with a life threatening emergency.
Click here for a full description

Venue
West Joburg: Roodepoort region, near the Gordon Road off ramp
28 9th street, Delarey, 1709 (Off Mollie Road)

https://goo.gl/maps/Evhq9o4aJi82

Date & Time
AED CPR: 8:30am - 11:30am

First aid kit
If you buy the recommended kit online with your order you get a 10% discount on the kit.
Online discount
If you book your course online you get a discount. You can still call us, or send us an email, if you want to chat about the weather, or need anything else.
Online discount
Yes, I would like a discount for booking online. (-43.4783) No, thank you. (0)
First Aid Kit
No First aid kit (0) Recommended first aid kit in Grab Bag (10% discount) (452.3478)
More Information
Payments can be made by: Zapper, Payfast, Credit card, Cheque card, Debit card, Visa, Mastercard, Instant EFT, SCode, Bank transfer, Online Banking and Cash Deposit.