More information
Payments can be made by: Zapper, Payfast, Credit card, Cheque card, Debit card, Instant EFT, SCode, Bank transfer, Online Banking and Cash Deposit.
Start Shopping
Recommended kit in a Grab Bag
0025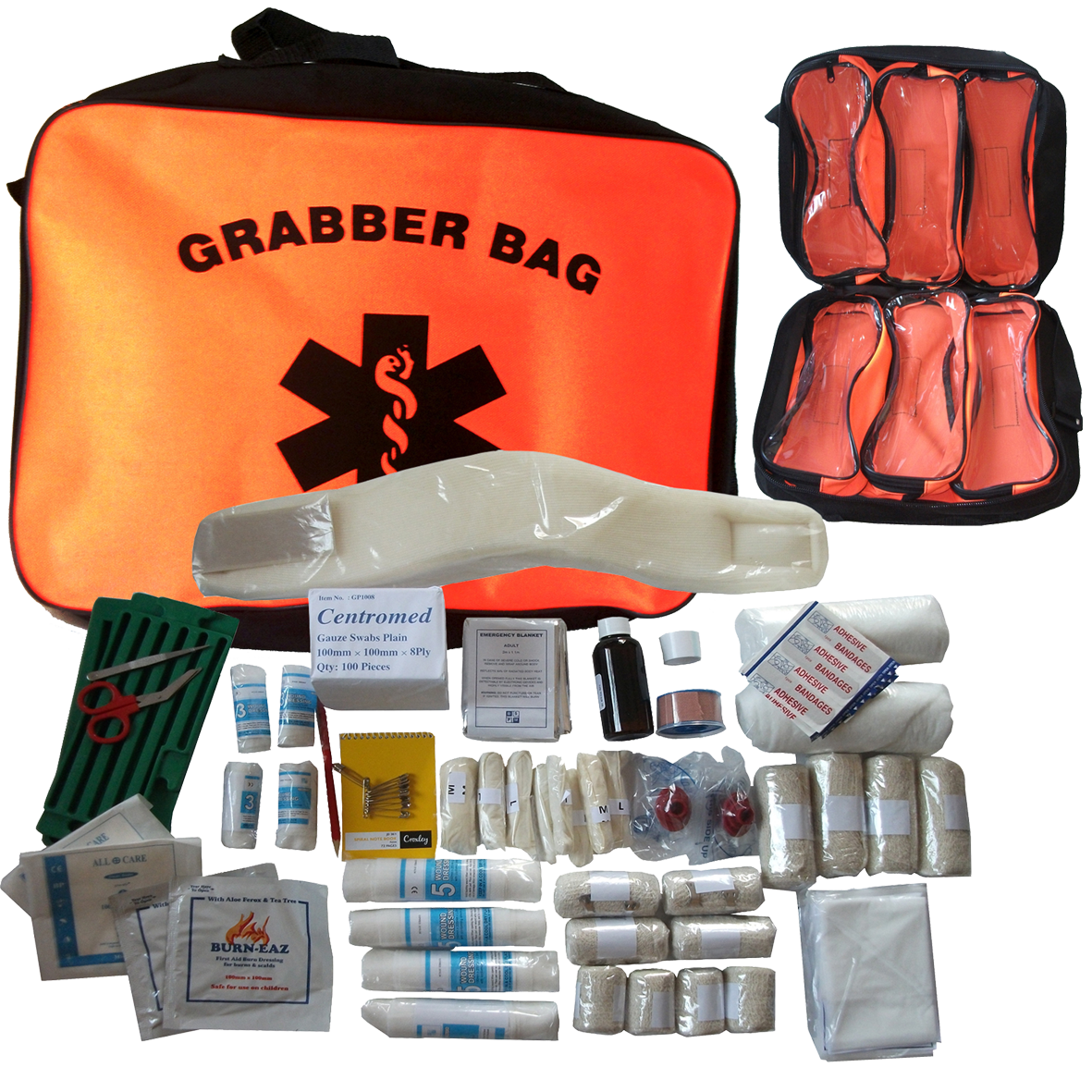 BEST SELLING ITEM
Recommended kit in a Grab Bag

You may only need to get the regulation 3 kit to satisfy the OHSact minimum requirements, however it is short on some very useful equipment: Burn dressings, Notepad, Pencil, Shock blankets and Spare gloves. As such we recommend you get the recommended kit as it contains these items and several more to make dealing with an emergency much easier, and much more effective.

The recommended kit also comes with a printed sign to satisfy the signage requirements for first aid kits as well as spare equipment of the most used items so you don't need to restock your kit as often.
Recommended First Aid Kit in a grab bag video



Kit Contents
| | |
| --- | --- |
| CPR Mouth Pieces | 2 |
| Wound cleaner / antiseptic (100ml) | 1 |
| Gauze Swabs (100's) | 1 |
| Cotton wool for padding (50g) | 2 |
| Sterile Gauze (5's) | 2 |
| Forceps / Tweezers | 1 |
| Pair of Scissors (Min Size 100mm) | 1 |
| Set of Safety pins | 1 |
| Crepe / Roller bandages (50mm x 5m) | 4 |
| Crepe / Roller bandages (75mm x 5m) | 4 |
| Crepe / Roller bandages (100mm x 5m) | 4 |
| Roll elastic adhesive (25mm x 3m) | 1 |
| Roll of paper tape (25mm x 3m) | 1 |
| First Aid Dressings (75mm x 100mm) | 4 |
| First Aid Dressings (150mm x 200mm) | 4 |
| Straight splints (single) | 2 |
| Medium disposable gloves (2 pairs) | 4 |
| Large disposable gloves | 12 |
| Triangular Bandages | 6 |
| Burn dressings (100mm x 100mm) | 2 |
| Plasters | 10 |
| First aid kit sign | 1 |
| Pencil & pad set | 1 |
| Soft neck collar (large) | 1 |
| Emergency / space blankets | 2 |